Regina Scott has been named the first Black woman to reach the rank of deputy chief with the Los Angeles Police Department.
With her 31 years of her experience on the force, she will oversee Los Angeles's Central Bureau, which the LAPD describes as one of the most ethnically and culturally diverse areas in the city.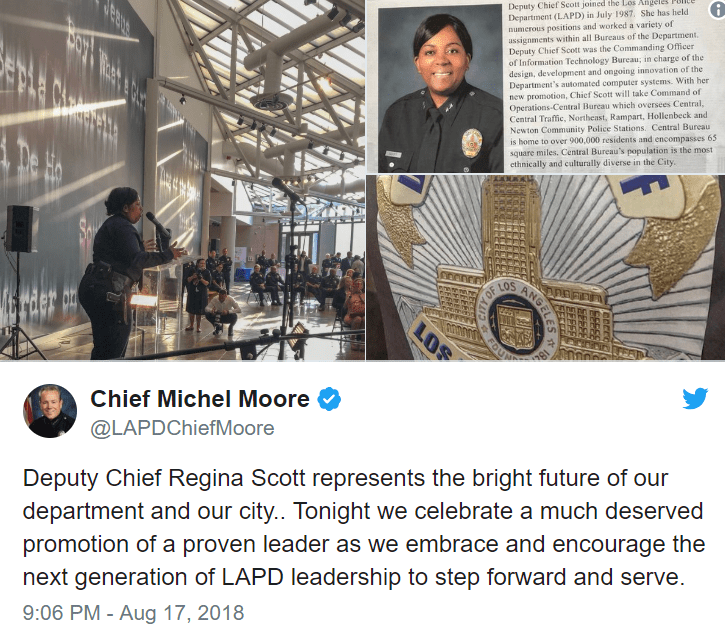 Scott, who also has the distinction of being the first Black woman to achieve the rank of commander, joined the LAPD in July 1987 and since then has held numerous positions and worked a variety of assignments across different bureaus.
According to ABC 7, her advancement is part of a concerted effort by new police chief Michel Moore to diversify the upper ranks of the force. And with her 31 years of experience on the force, it was an easily-earned promotion for Scott.
Travis Yates, the Founder of the Courageous Leadership Institute, which consults and trains agencies, praises the appointment but says that more must be done.
"When it comes to law enforcement, it's not a matter of if we have qualified candidates of diversity, it is a matter of why are they not already in positions of higher ranks? Many agencies such as LAPD are doing an excellent job but I challenge every department to look into their ranks and do more," Yates told us.
The post LAPD Names First African American Woman Deputy Chief appeared first on Law Officer.