In wake of pension cuts for retirees and state mandates on agency policy, law enforcement agencies in Ohio with 25 or less sworn full-time officers have come together to form the Ohio Small Police Department Association (OSPDA).
The idea behind the association began to form when Katherine Bobick, a grant writer for many small agencies, saw similar trends and problems that those agencies faced.  As the now Executive Director, Bobick states, "The Association is committed to developing strong collaborative partnerships between small departments, and relationships that enable its members to provide a high level of service and to better protect, serve and support the people of their communities."
The board was elected in its first official meeting on January 23, 2019. The Board consists of Brewster (OH) Chief Keith Creter as President, McArthur (OH) Chief Matt Kight as Vice President, New Washington (OH) Chief Jeremy Schick as Secretary, Wellington (OH) Chief Tim Barfield as Treasurer, Hamersville (OH) Chief Guy Sutton, Bucyrus (OH) Chief David Koepke and Crestline (OH) Chief Jeff Shook as Board Members.
Bobick points out that the OSPDA is speaking out regarding the Ohio Collaborative Standards that are being put into place. Citing "a profound impact on small
departments", the OSPDA has released the following policy stand in regard to the Ohio Collaborative Standards.

"Running a small police department in Ohio comes with its own unique set of challenges, procedures and policies. While the Ohio Collaborative Standards may have positive intentions, it places unneeded strain on small departments. The Ohio Small Police Department Association believes that strong standards for police conduct and community engagement are vital components of our function. The Ohio Collaborative Community-Police Advisory Board and the standards they have drafted are not in the best interest of most small police departments in Ohio. Law enforcement can and should always be evaluating their community service. We deny that the responsibility for the majority of tensions in some communities' rest solely on the shoulders of those in law enforcement.
We recognize that there is a conflict between the Collaborative Standards and small departments that is forcing our voice to be heard. The "one-size fits all" approach to the standards generally point to issues larger departments may need to address, but as small departments we have not struggled with community
relations, in fact we specialize in it. The language of some standards unnecessarily burdens large and small departments with rules that conflict with case law.
Budgetary and staffing issues plague small departments. Individual departments are better served by determining the best way to spend their training
time, money and resources. The Ohio Small Police Department Association will work to develop policies and relationships so that we may help share the burdens and concerns of similar departments so that they will be able to meet their community's needs in a responsible and respectful way."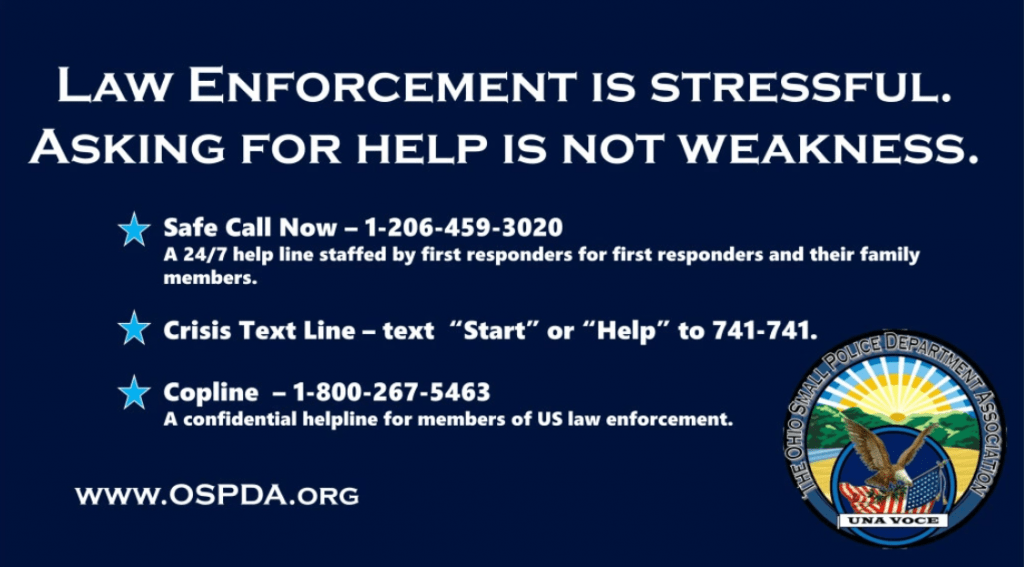 We originally told you about the Ohio Collaborative Standards in 2017 and praised Wellington (OH) Police Chief Tim Barfield for his stance on the issue. Chief Barfield is a leader in this organization and tells us that he was encouraged by the "leadership and courage" that members of the OSPDA board have shown thus far. "This board is full of courageous chiefs and leaders who care about their people more than their reputations.  It is truly an honor to serve with them" Barfield told us in an exclusive interview.
Travis Yates is the Founder of the Courageous Leadership Institute and he calls the Ohio Small Police Department Association a model for every state. Citing a lack of leadership in many law enforcement organizations that has created one of the most toxic environments the profession has ever seen, Yates says that "small to mid-size agencies" will be the reason that law enforcement survives the onslaught of attacks, violence and poor policy decisions by weak leaders.
"Some of the finest leaders in law enforcement are sitting in agencies that may not have a household name but real leadership is happening and in the end it will be leadership that everyone, in every agency, will cling to," Yates said.
Citing the Ohio Collaborative Standards that was driven by a few high profile incidents in large cities, Yates says that the "knee jerk reaction" of some to implement a solution for a problem that doesn't exist in the vast majority of agencies is exactly why OSPDA must exists and he calls on every state to do the same.
---
You can find out more about the Ohio Small Police Department Association at: https://ospda.org/.
You can follow them on Facebook here.
The post Ohio Small Police Agencies Form Association appeared first on Law Officer.