A&E Network will premiere a new unscripted series centered on first responders getting tattoos in June.
Hero Ink follows the work of tattoo artists at Prison Break Tattoos in Houston, Texas, who specialize in creating meaningful, custom tattoos for first responders, paying tribute to the work they do every day.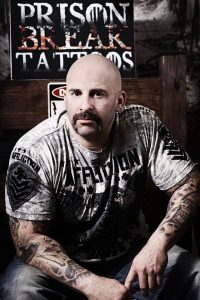 Prison Break Tattoos is owned by Houston Police Sergeant BK Klev who has been in law enforcement for over 25 years. Law Officer highlighted BK and his business in 2016 and discussed BK's continued acts of generosity last year in an article titled, "Give Until It Hurts."
Each episode will look at both the work of the first responders in the chair, and the process of crafting their personal piece.
A&E holds worldwide distribution rights.
Hero Ink premieres June 6 at 10 p.m. ET/PT on A&E, with back-to-back episodes.
Watch a trailer below:
The post A&E Launches Reality Show Highlighting Police Owned Tattoo Shop appeared first on Law Officer.