OSCEOLA COUNTY, Fla. – A two-time cop killer has been convicted and now faces the possibility of death as punishment for the heinous crimes. A jury found Everett Glenn Miller guilty of first-degree murder Wednesday for shooting and killing two Kissimmee police officers in 2017.
The 12-member jury deliberated for about two hours at the Osceola County Courthouse before reaching a verdict. The families and friends of the two slain lawmen, Sgt. Richard "Sam" Howard, 36, and Officer Matthew Baxter, 26, were present throughout the trial, Orlando Sentinel reported.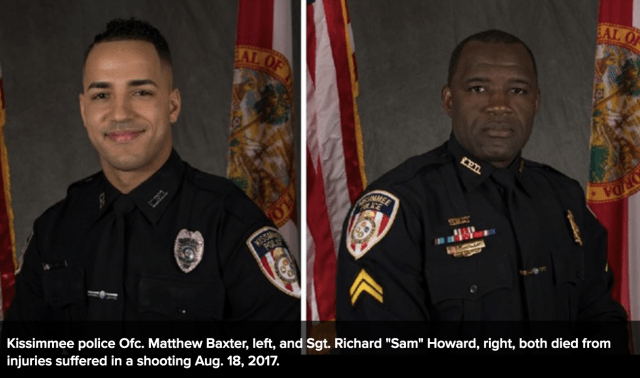 As a result of the verdict, prosecutors are seeking the death penalty for Miller, 47. Jurors will return in November for a sentencing hearing to decide if the two-time cop killer should face execution or life in prison without the possibility of parole.
Prosecutors told the 12-member jury during closing arguments Tuesday that Miller was motivated by his hatred for police and wanted to "make a statement" with the killings. After ambushing Howard and Baxter and shooting them in their heads, prosecutors said he re-positioned both bodies parallel to each other and fired again at the officers' faces.
However, Miller's defense attorneys blamed the brutal atrocities on what was described as high profile police brutality cases, leading him into an altercation with Baxter.
Moreover, Miller's lawyers argued the state proved second-degree murder, but not the premeditation required for first-degree murder.
Baxter was conducting a dutiful check on three suspicious people the night of Aug. 18, 2017, when a witness said Miller suddenly drove up and started asking, "Why the [expletive] you messing with my peoples?"
After Baxter called Howard to the scene, Miller argued with the two officers, saying he feared for his life and telling them he had a license to carry a concealed weapon, the witness said.
Investigation revealed that neither officer had a chance to return fire before they were murdered, New York Daily News reported.
Prosecutors say Miller went to a bar on Orange Blossom Trail after the double homicide, where he was arrested.
Miller's family and friends told the Orlando Sentinel after the shooting he had been struggling with post-traumatic stress disorder after coming home from a two-decade military career, but jurors did not hear evidence regarding any diminished mental capacity because Circuit Judge Greg A. Tynan ruled Miller's attorneys could not use his "abnormal mental condition" as a defense to the murders.
The post Two-time cop killer faces death penalty following guilty verdict appeared first on Law Officer.